Choosing the best succulent pots or planters is commonly neglected, but this is vital to maintaining your succulents healthy and happy.
Suppose you don't know which succulent pot use to plant different succulents. In that case, this guide lets you know the difference between these pots and let you resolve which type of container is best suitable for your plants.
You wish to opt for the most suitable container for the plants, perhaps not for decorative reasons but to confirm the proper longevity of succulent plant arrangements. Particular containers can are to get a specific intent. In contrast, other planters might perhaps well not be suitable for your kind of job you're piecing together.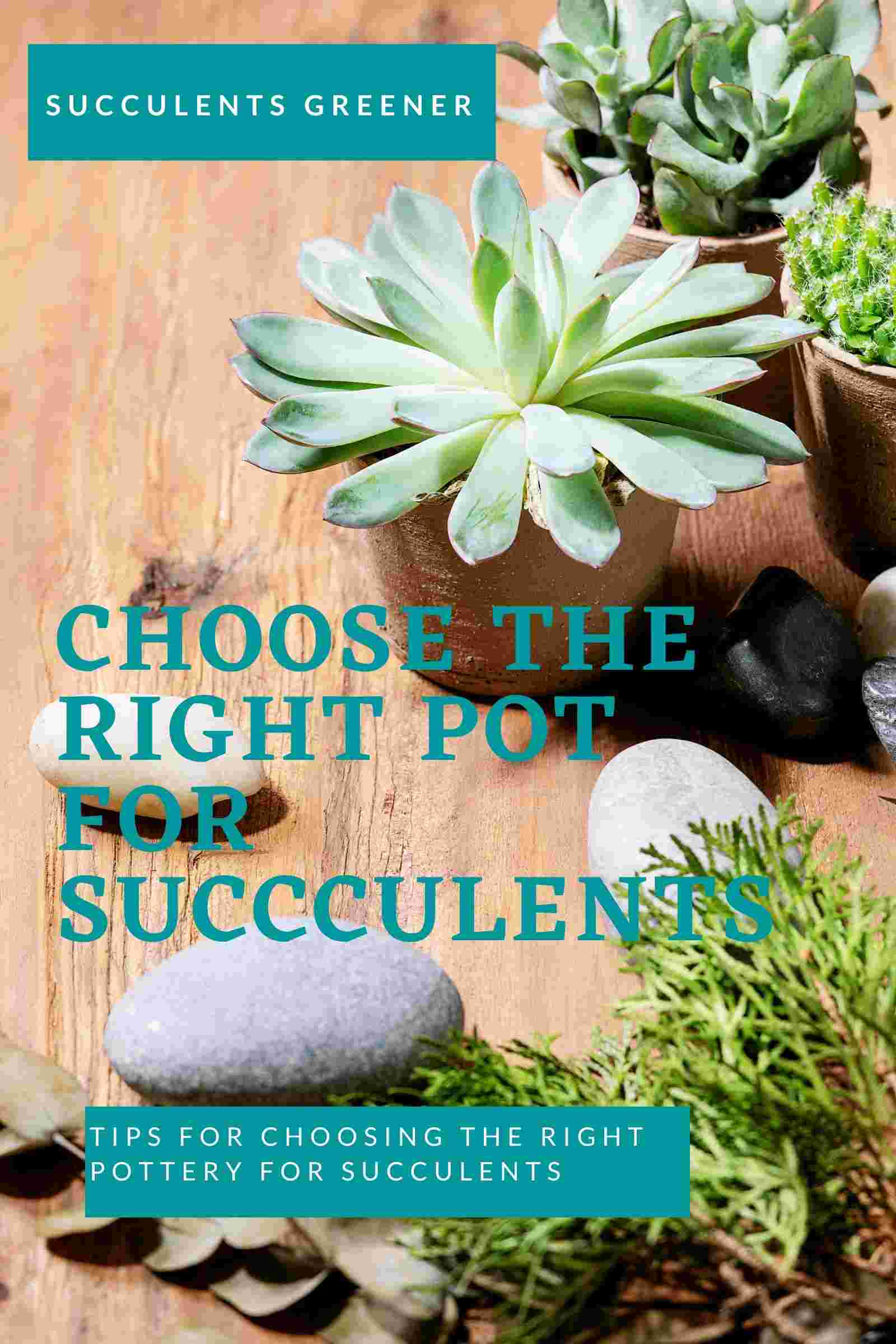 Here is the quick classification of different materials and pots to help you decide which one is the best pot for your succulent needs.
When going to succulents, I appreciate that more than purchasing succulents is selecting the right pot to plant them in. Mostly I prefer blue or green Pots. Always my primary intent is to one day having four giants blue or green Pots on my balcony, packed with glowing orange and pink succulents. It seems glorious, right?
As I love purchasing Pots and containers for my succulents plants, finding the most desirable one becomes more challenging. Over many years when I started, I learned some basic things to consider when selecting a Pot that many beginner succulents' growers don't ever think about that.
All these circumstances make a considerable difference while increasing your succulents' growth.
Well Drainage Succulent Pots
If you read my older post on 'succulent watering' or 'well-drained soil for succulents' you mostly know why choosing a pot with a drainage hole. If you are new or land here for learning purpose, you need to memorize always select a Pot with a drainage hole. Thoughtfully, this is likely to make your own life much less complicated, since it will take quite a bit of the guesswork out of watering succulents.
If you find a pot you love wholly but unluckily don't have any drainage hole, you will still have choices! You can make drainage to the majority of pot containers using a 'diamond tip drill bit.'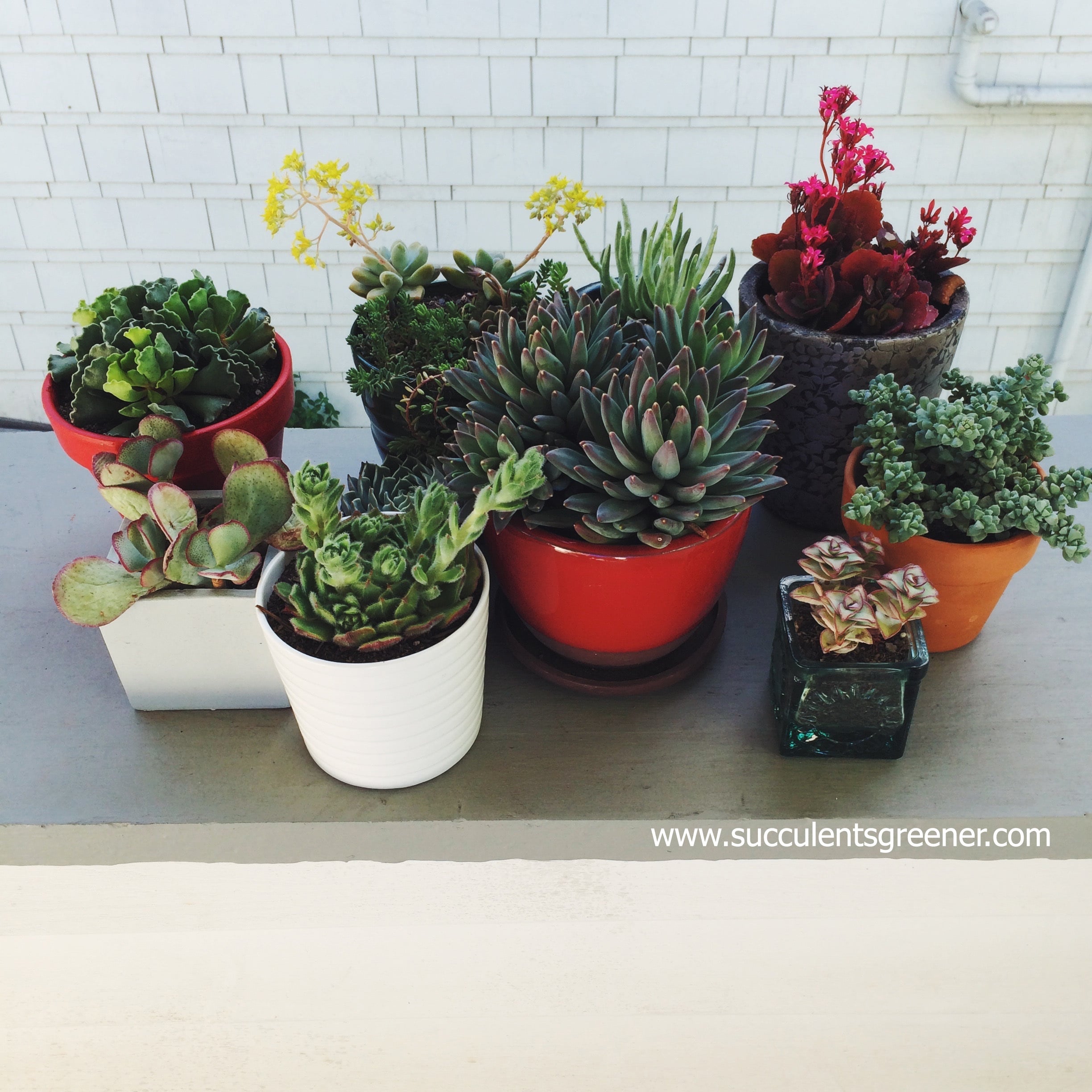 Since you're happier by watering your succulents in a pot with a drainage hole, you're able to branch out and take to some Pots without drainage. But — if you are a learner using succulent plants, a drainage hole is likely to make things easier.
Is Succulent Pots Size Matters?
If it comes to the succulent pot's right size, every succulent beginner thinks bigger is better. You desire to provide your succulents plant lots of space to grow; everybody does, so that planting in a pot, having bigger space is the way to do that Right?
Planting succulents in a big pot may be harmful to your succulent plant; it may hurt the plant's overall health and growth. Well, Planting in the proper sized pot is most beneficial, that ought to have an inch or 2 of additional space over the sides at most, and it's encouraging the overall plant growth.
Whenever your succulent's roots get to the pot's ground and surfaces and have not much more space to distribute, your plant will form new top high growth over the soil sooner, that is what you want to see, right!
Placing your succulents inside the suitable succulent planter or containers additionally has a pleasant, real impact –also minimizes the dying chance from root rot. Soil keeps moisture, so large pots that consume significantly more of it will retain more moisture. It lays your succulents pant in danger from water harm and root rot. Bigger succulent pot is not always acceptable, therefore planting your succulents at a tiny enough Pot to maintain them more healthy and shiny!
Materials Used for Making Succulent Pots
The next thing is the materials from which your pot is built. A few frequent pot materials incorporate ceramic, plastic, wood, glass, and metal. So that, which is the best material for your succulent? It is based on the place of your succulent's arrangement.
Ceramic
Ceramic pots construct from clay once they are permanently hardened by heating. These unglazed ceramic pots are slightly more porous, allowing water and airflow throughout the Pot's sides. The clay absorbs the moisture from the wet soil, making the ceramic Pot a perfect option when a succulent plant prefers dry soil or if you have no idea about "how often watering succulents."
Glazed ceramic pots don't dry as fast and certainly are less porous, and can confine air moving out of this Pot's sides.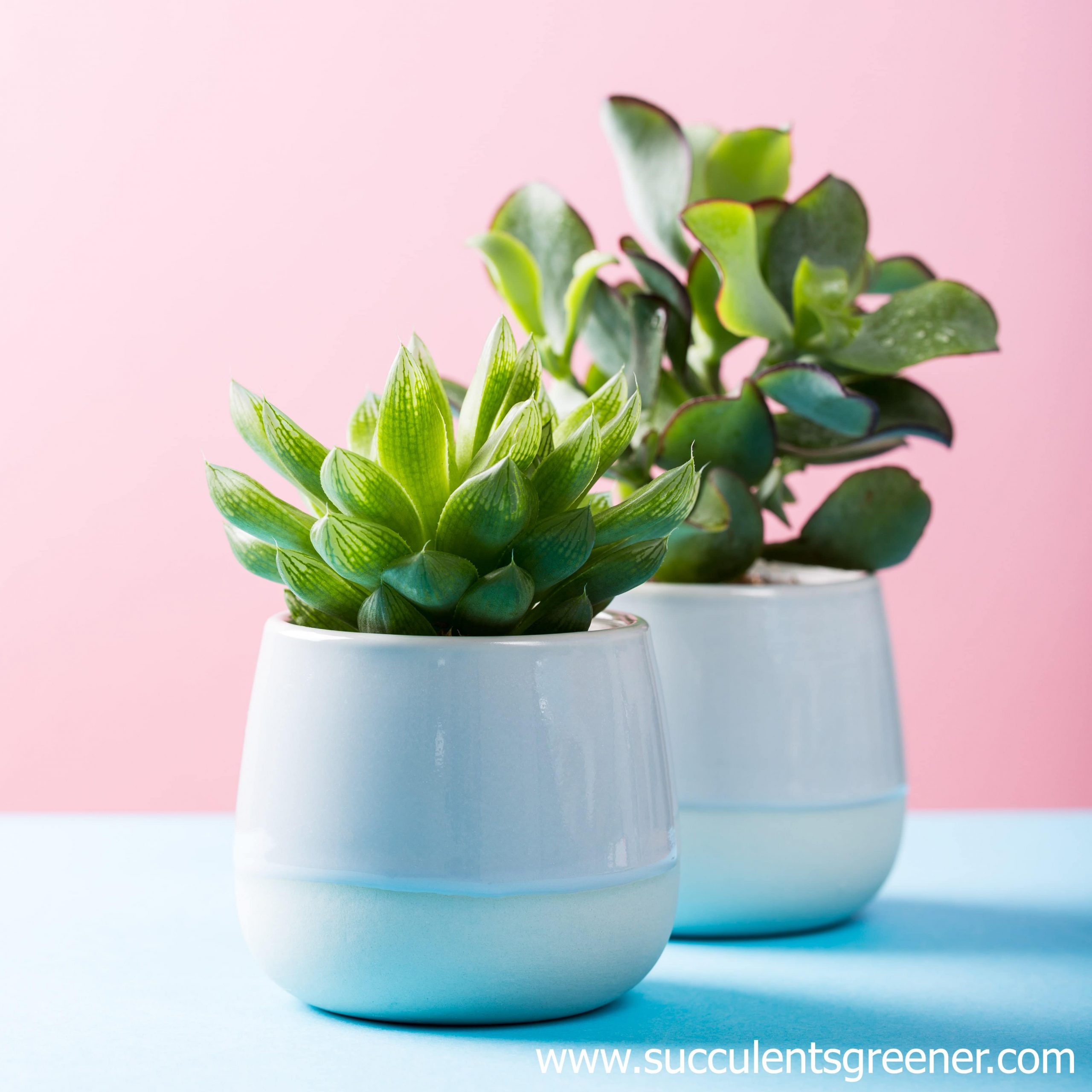 Ceramic containers are generally bulky and thick. However, they are also expensive either. We can say that ceramic pots are ideal and serve plants that become top-heavy very well. However, heavy ceramic Pot can also be crack if you left them in the cold or icy weather. In the cold, these pots not as durable at outside. The thickness of the ceramic pots protects succulent plants from speedy temperature changes.
The thickness of the ceramic pots protects succulent plants from speedy temperature changes. These pots will not be blown over the wind easily because of their weight, and as compared to lighter Pots, ceramic pots will hold their weight very well.
Advantages:Protect plants from swift temperature changes, not lasting but somewhat; comes in lots of variation like attractive styles and colors; because of heaviness, it can hold top-heavy plants very well.
Disadvantages:It is difficult to move pots from one place to another because of their heaviness; it is also more costly; it can be crack when left to a cold or cooling climate.
Terracotta
Terracotta pots are constructed from clay and commonly unglazed. They are usually sold in a brown-reddish color, globally available as pots and planters; that also come in many sizes and designs. They usually sold at a low-cost.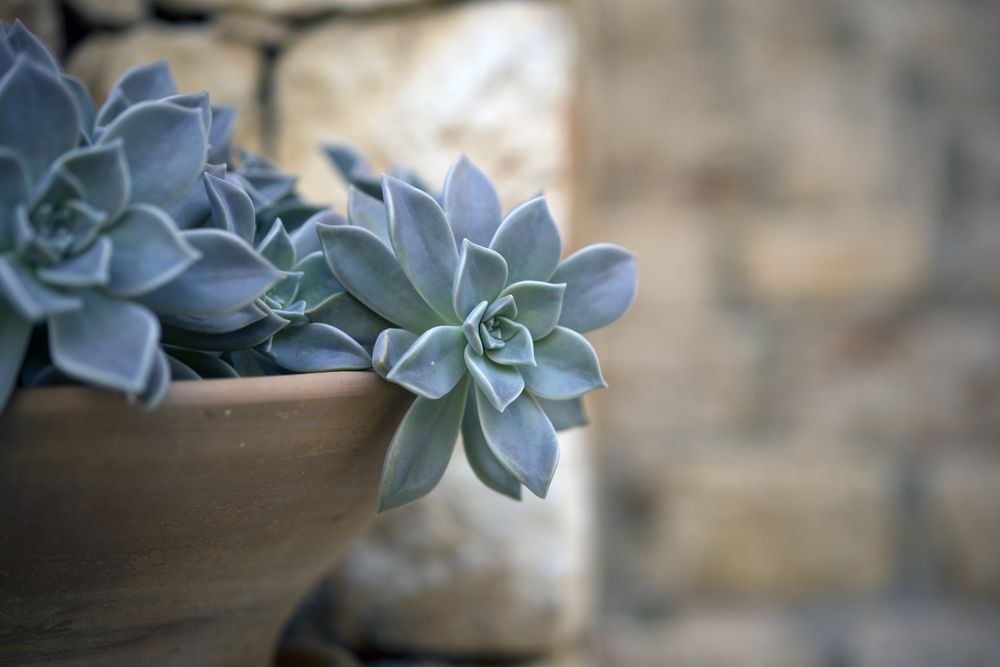 Terracotta planters are very porous, allowing water and air to pass through the pot walls easily. These types of pot containers are very porous and quickly dry out because of moisture loss from the outside. For the plants that prefer dry soil, these pots are perfect, but extra watering may be required to protect them from whole dryness.
They are usually heavy and certainly will crack when subjected to freezing temperatures. Remember that when choosing the right succulent pots, thicker terracotta pots are more durable.
Advantages:Worthwhile to plants which want to Remain dry; porous material dries the soil quickly that helps stop Root-rot; globally available in Various Shapes and sizes; budget price; classic Appearance.
Disadvantages: Breakable; may crack if subjected to freezing or cold climate; Plants need more watering because of porous material, which helps the soil dries quickly; may become hot under the sunlight and burn off plants' roots.
Fiberglass and Resin
Fiberglass planters are constructed from resin materials and woven glass fibers. These succulent pots are easy to getable in different shapes and sizes. These planters are commonly built to resemble stone pots, clay pots, and perhaps wooden planters. All these materials usually are molded into unique and one of a kind novelty planters.
Fiberglass containers aren't permeable to water and don't let water pass quickly to the containers' walls. These planters are both lightweight and long-lasting and withstand severe climate conditions outdoors. Fiberglass and resin containers did not have any drainage holes, exceptional for both cacti and succulents needing a dry mechanism. Drilling drainage holes at the succulent containers is an alternative.
Advantages:Transport is more convenient due to lightweight materials, making them easy for us; you get them in various attractive shapes and sizes; mushroom color and styles; cold resistance.
Disadvantages: Easily breakable; colors will fade over time; not so durable enough.
Plastic
Plastic is another alternative for planters and pots. Plastic containers are slightly affordable and lightweight; plastic pots' cost is less than their pricier counterparts. Similar to fiberglass planters, plastic pots will also seem like stone or terracotta pots.
A few folks consider plastic is tacky and useless; however, plastic containers are now considerably more robust and aesthetically satisfying, thanks to a more recent design and technology that make it possible. Plastic containers may have thicker walls and appealing designs and styles, making them popular and sure they are trendy and available for indoor and outdoor usage.
Plastic containers aren't permeable to water, so water and the air will not readily pass across these containers' hindrances. Less watering will required if going with plastic containers because water doesn't escape easily through containers' surfaces.
It is considerably more challenging for water to dry out in plastic containers than pots made from other materials. But if you are taking advantage of well-draining soil and set a drainage hole on the pot surface. Then, lack of breathability would not be a real issue.
In more extreme weather condition, these containers may withstand in outdoor but due to having lightweight material, certainly will blow off within powerful winds.
Advantages:It Simple to transfer due to lightweight material; cold-resistant; could be left out in cold temperatures, affordable; much more lasting, and not as breakable than clay
Disadvantages:Because oflightweight material, it doesn't stand up with powerful winds and maybe blown down; Non-Porous material will maintain moisture longer; requires less watering, as usual, to obstruct root decay for cacti and succulents because the soil may remain wet longer.
Wood
You can choose various available wooden planters and select the suitable one from them to ourselves. If you prefer a wood appearance, it's easier to get wood containers for your succulent plant; for beautiful succulent's arrangements. Wood won't crack and will be left out from freezing temperatures.
Wooden planters, although, are more likely to rot. To prevent rot issues in succulent's plants, use a plastic liner when using a wood container. Put some holes in Plastic or even wood to ensure that water and air will pass through easily. It's suggested to less watering as usual until the soil top surface dries out properly. It is because wood holds moisture and slowly dries out. Even Plastic also retain wet and permeate throughout this container's walls. Less watering is advised to avoid overwatering succulent and cacti.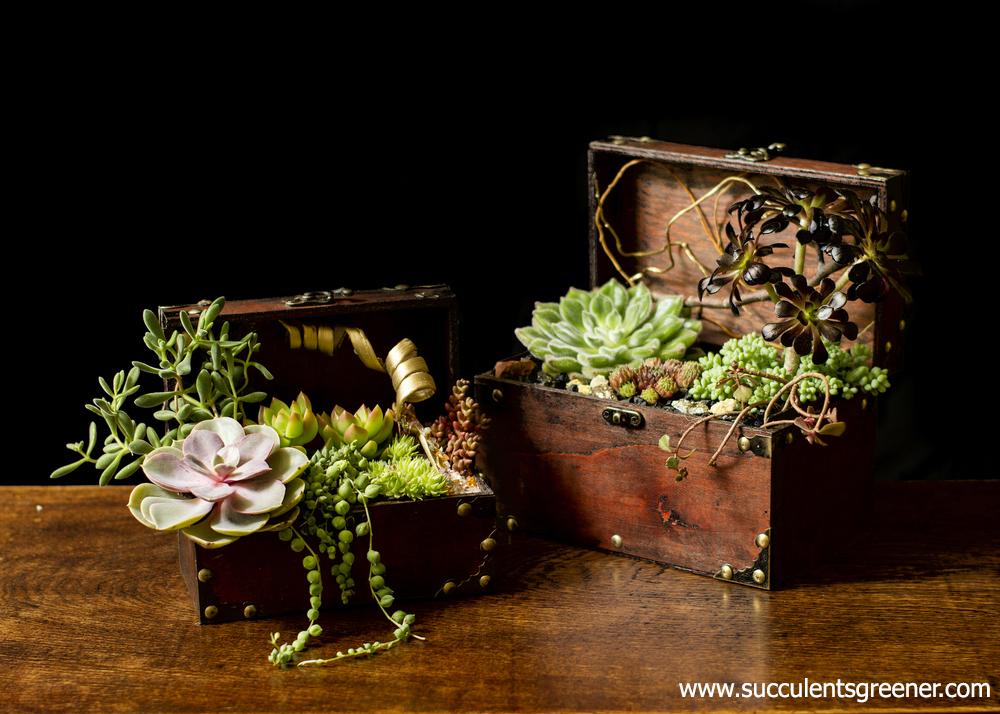 It is an impressive alternative if you are looking for a unique passageway to plant your succulents plants. Last summer season, I made a driftwood planter, which I love. It seems appealing, eye-catching succulent pot than your usual planters and pots.
Additionally, wood is somewhat helpful for succulents, those placed in direct sunlight or hot climates, because wood retains water to keep the succulent plant cool.
Besides this, if you plant in a place where low sunlight, you could notice that wood could rot or maintain your soil wetness for overlong, which causes root rot. The wood can also be breakable as time passes or divide out of being watering more extra.
For all particular reasons, wooden might well not survive so long like any other materials as a pot. But if you select the most suitable location for those wood planters, that can look quite impressive!
Advantages:Withstand outside in chilly temperature; Strong enough; cold resistance; look like a natural pastoral appearance.
Disadvantages:Wooden is more likely to decay; wood absorbs water and healed using a water sealant when abandoned outside
Metal
Metal containers confer an eye-catching look for the pots that you want for your garden. Metal containers are offered in diverse sizes and styles. Metallic containers are exceptionally resistant to cold. Metals like iron tend to be more likely to rust. To prevent rusting, coated your metal container with any anti-rusting paints from time to time.
Metallic containers often consume heat readily, which may burn off the succulent plant when left under direct sunlight too long. Many metallic containers, for example as solid iron, may be hard to transport due to heaviness. Many metallic containers usually do not include a drainage hole. That may be uncertain to your succulent and cacti plants because they typically do not prefer to settle down in the water.
It is typically not just a fantastic long-term alternative for planting succulent plants. If you use it, remember that its quick temperature changes, which let the soil heat up too fast and affect the plants' health.
Additionally, if you don't take advantage of a metallic pot specifically designed for planting, it will be rusting from time to time, and it will not be beneficial for succulents. If you opt to go for a metallic container, it is ideal for moving your succulents into some new different container Pot after a time.
Advantages:Cold resistance to freezing temperatures; strong long-lasting; Available in various styles or designs
Disadvantages:Susceptive to rust; absorbs heat, which May burn off the plant roots or dries them too fast; metal containers rarely possess drainage holes that Can be questionable for succulents and cacti.
Concrete and Cast-stone
Concrete and also cast-stone pots or planters are designed to endure the test of time. All these planters are typically used outdoors in homes, gardens, or industrial settings. Concrete containers are long-lasting and certainly will shield your succulent plants from all possible types of climate conditions.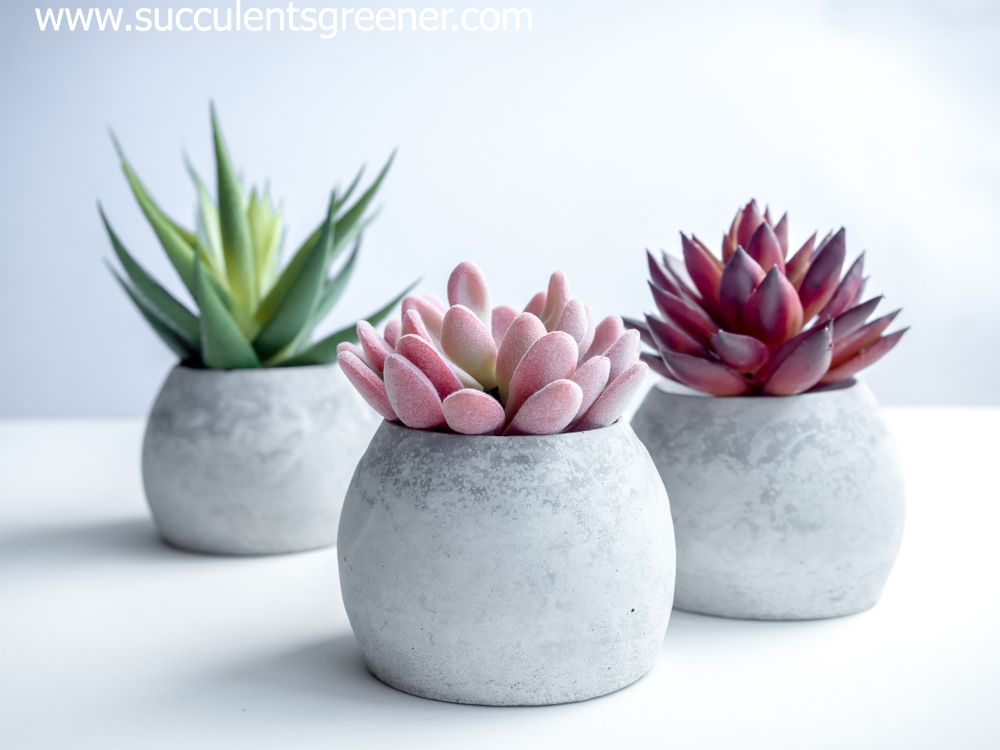 They are commonly strong and too heavy; that's why moving them around is not easily possible; also, they stand up with strong winds easily. Try to stay the pot in the same area for quite a long time if you decide to use it.
Concrete and cast-stone containers are somewhat porous, allowing for air and water to permeate the pot walls. Concrete is high in lime, which may change the pH of the soil. Water the cement container sometimes and let the water draining away excess lime before use.
Advantages:Durable, cold-resistant; heavy stuff might withstand powerful winds; water and air pass through the walls due to porous material.
Disadvantages: Especially heavy and hard to transfer; could be expensive; generally available in big size and could only be fair for large arrangements.
Textures or Colors
Now you have enough knowledge about what material works well for succulent plant. At that point, you have two options either chooses the pot texture or color based on the succulent plant you deal with or select a succulent plant based on the Pot you wish to use.
The Succulent Perch is a facebook page own by Cindy Davison, who is an expert. She puts lots of thoughts into picking succulents plant, whose color may mimic or complement the Pot she uses; when she starts matching the succulents and pots texture or color.
For Example, in this succulent arrangement, she has filled the Pot using succulents, which can be alike in shapes or color into this look onto the Pot. These Succulents arrangements look unified and beautiful.
These choices could be a little overwhelming, so I understand! Suppose you fail to determine what to plant your succulents in, or whether you should be having trouble finding the most suitable Pot's. In that case, a fantastic alternative is terra-cotta pots or even typical white succulent pottery.
All these succulent seems lovely in one Pot, and their ease helps focus on the succulents' concentration.
Here I put some fantastic lists of works, which perform well with succulents plants. You may find some of "Susan Aach," who is an exceptional ceramic expert, every time she plans to create her exclusive pieces, she always keeps succulents in mind.
Cindy Davison from "The Succulent Perch" designed this succulent's arrangement on a "Susan Aach Pot" shown below.
Finishing Word
Here in this blog, we learn how to pick the right succulent pots for succulents arrangement or any individual succulent plant planting. Now you know lots of factors matter when choosing the suitable pottery for succulents. Pot size and material in which they built play a key role in your succulent plant overall growth. A perfect size pot with a drainage hole is best for succulent neither too big nor small.