People often ask when and how to transplant succulents without damaging the succulent growth. in this blog post we know some necessary thing when transplanting succulents. Most Succulents are cold hardy plants. It has thick leaves with flesh. Succulents look beautiful, but their maintenance little bit risky. So insects and bugs attract flesh due to a reason plants affect, and it will damage the entire plant so, we need to take care more on comparing to other plants.
Frequent observation needs to protect from bugs. Remove soil when you observe bugs.
Why transplanting Succulents?
Transplantation is necessary to grow succulents. Before, going to repotting the succulent plants. First, we should choose a location because of succulent needs, Normal temperature, sunlight. Six hours of sun is necessary to grow healthy succulents.
If the roots come out from the drainage pit; Then your succulents plant needs bigger pots.
Sometimes it becomes necessary; when you need to save the succulents from root rot caused when pots did not have a drainage hole.
is transplanting succulents or repotting them the same thing?
Transplanting and repotting are two different processes, but they are often used interchangeably.
Transplanting typically involves moving a plant from one location to another, either in the same container or a different one. This is often done to provide the plant with better-growing conditions such as more sunlight, better soil, or more space.
Repotting, on the other hand, involves transferring a plant from one container to another, usually a larger one, to provide more room for growth or to refresh the soil. This is done by carefully removing the plant from its current container, teasing out the roots, and placing it in a larger container with fresh soil.
While the two terms are similar, repotting is generally used to refer specifically to the process of changing a plant's container. In contrast, transplanting refers to moving a plant from one location to another regardless of whether another container is involved.
Indoor location for transplanting Succulents
Keeping it near the window or under the sunlight will keep plants at Normal temperatures in the house. Later, we should move the plant to the shadow area.
Outdoor location for Transplanting Succulents
Outdoor keep focusing on sunlight because succulent handle hot temperature. It lives in Normal temperatures and fresh weather. It keeps under the trees when the gardener wants to move the shadow area. In Outdoors, succulents feel happy so, it grows naturally in the fresh air.
It protects from bugs and insects when sunlight appears on the plant. So bugs and insects occur when the leaves over sock in the water then, leaves will damage. Therefore, to protect from the bug's gardener, keep the succulent under the sunlight for some time to make dry the succulents. Hence, a stable temperature is a must.
Needed Items When Transplanting Succulent
Soil Mixture: Succulents need drainage hole pot to water drainage. A gardener fixes the mesh to holes to cover the soil. The succulent needs fresh soil mix, sand, and small pebbles to grow well. So while transplanting a plant, you should change the entire soil mixture to protect bugs and insects. Then, succulent overgrows in a new soil mixture.
Read: Soil for succulents
Organic succulent and cactus mix is available in hill stations. Small pebbles, coconut coir chips, and little compost need to grow succulents in an outdoor area.
Readymade Mixture: In the posh area, readymade mixtures are making the succulent pot mixtures to help gardeners. It has more demand in the market.
Succulent Transplanting Process: Let us know about the transplanting method. Either transplanting plants in Indoor or outdoor is the same process but a little bit change in Indoor. We should keep near to sunlight in the house. On the outside, it is not necessary. Indoor sunlight does not appear. In the Outdoor, it is hard to keep in the shadow area to secure from suitable temperatures.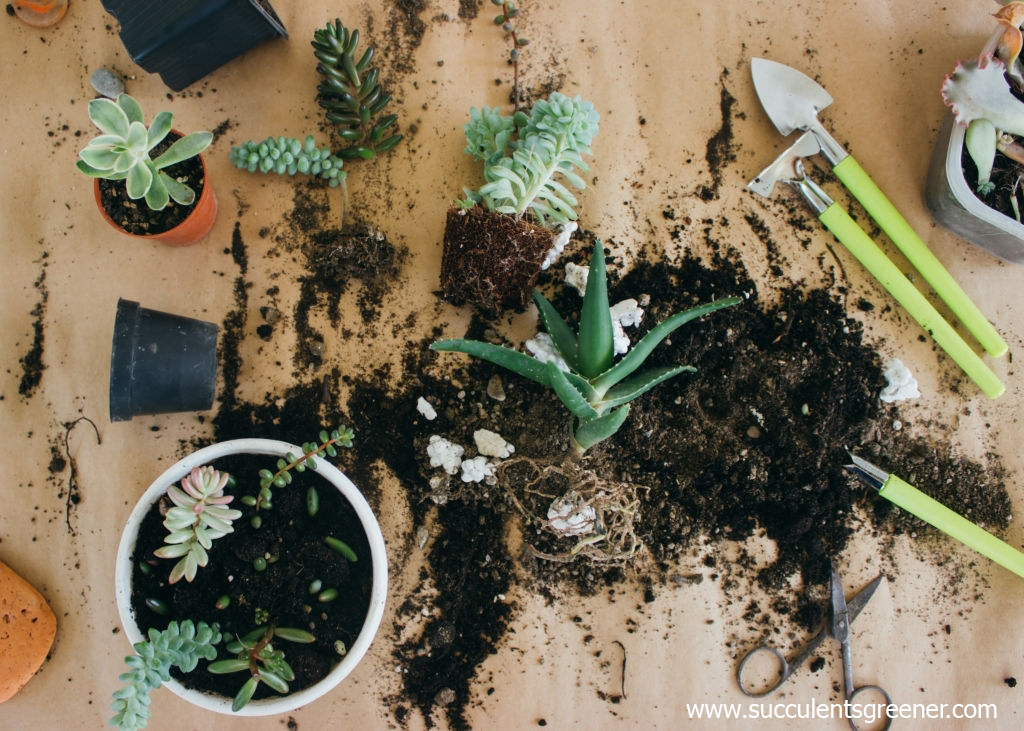 Change the Pot: Succulent cannot grow in the dust area. It cannot bear overheat. Therefore, cleaning a pot is necessary. Plantation of succulents is essential to growing roots in the succulents gardening.
Succulents feel happy in warm weather. Always, we should keep away from bugs. The succulent roots become healthy by transplanting the plants. The plants will grow long in a wide area by changing the pots dirt mixtures. It looks beautiful. Good succulent lives a long life.
Read: Right choice for succulents
Granite, around the succulent plant. Do not use water-holding materials, like shredded bark, because it can cause root rot. Do not water for at least a week after replanting the succulent. Too much watering usually caucuses a long period to properly take place the roots in the potting soil of the pots.
Note: Things to Know Before Moving Succulents to a New Pot
You need to know that before doing the actual transplantation of potted succulents. It is noteworthy to dry the soil of the pots. Some people asked me why it's crucial to dry the soil? And what happens when repotting if the specks of dirt are watery.
Well, the answer is simple. If you are moving your plant without waiting for the soil to dry. Then there might be a possibility of root and stem damage, and thats cause your succulents' to die.
If you encountered this cause in succulents gardening. Then you must follow this step.
You can do this by avoiding watering for weeks or maybe two weeks before repotting to a new pot.
Transplant succulents without damage?
According to seasonal changes, we should move the succulents or cactus from one place to another. The temperature should be stable to move the plant place.
Step to Follow:-
Use the drainage hole pot to remove dust particles, insects, and excess water.
While moving succulents, the bucket is necessary.
Schedule Special timings to water the succulent.
Cut the unwanted stems.
Dig the plant using a drip line.
Replant properly.
Try to remove stress on the succulent.
Season: In summer, succulent becomes dry. Hardy plants cannot bear the continuation of heat. It can cause damage to succulent plants. We should take care of the roots in all seasons because succulent cannot bears overheat, excess water, high cold.
Therefore, every time according to the season, we should move the plant according to climatic conditions. Mark the damaged spots to test the soil. Soil testing is compulsory to replace. The pot mixer should be new and free from bugs. Potholes are compulsory to drain water.
If you want to grow in the garden, you select the normal temperature area to plant the succulent. After that, bring to the transplantation.
Schedule Special Timings: It is significant to schedule the timings of watering the plant after transplantation. The garden should be wet, so the gardener pours the water to dig the soil easily. We can plant the succulents in the ground quickly. Cutting excess roots and stems properly must transplant the plant. After that, cleaning is necessary to keep it in another spot.
Read: How to water succulents
How to Remove the Stem?: If you want to keep the plant in the garden or a pot, Choose the location near to shadow because succulent feel uneasy under direct sunlight. Later, sprinkling water on the leaves to avoid heat on the succulent required to reduce heat. At the initial stage, Cool temperature and frequent watering are necessary.
Replant Succulents in a new pot properly?
After uprooting the plant, you should keep a bucket or pot to secure while transplanting the plant. First, trim the roots and stems to remove the excess leaves, flesh out the soil, clean the pot, and drainage holes. Later, recheck everything and move it in the garden.
Water After transplanting Succulents: The next important thing is to pour water after repalnt the succulent because it will feel comfortable to settle in the new location.
You need to carefull when replant; it may also cause root rot if the root stays long in the soggy dirt after over watering.
Which time is best for transplanting succulent?
Early morning is the best time to transplant the plants because the temperature will be moderate in the morning hours. The medium climate supports succulent to settle the location than an afternoon.
Fertilization After Transplant Succulents: Fertilization is necessary. But, a plant man should observe whether it is essential or not. For healthy succulent, water and cleaning are enough, but fertilization is a must for damaged plants and week plants.
Do Not Go to The Plants at Night: It is an important thing to grow succulent plants. Every plant needs privacy at night to take a rest for some time. Because in the night they will get energy and feels relaxed. It consumes oxygen and releases carbon dioxide; bugs, insects, spiders, and snakes attract the succulent night to attack human beings.
Breaking Up the Roots: We should cut or break some excess roots to plant in the right position with a knife or hand. Then it is possible to keep the plant in the drainage hole.
Why plants die after transplanting?
Succulent cannot adjust to a new location easily after transplantation. Therefore, a gardener should maintain the succulents by sprinkling the water and changing the locations sun to shadow.
Lack of sufficient water, sunlight, and shadow will damage the plant to die. Sometimes old or infected plants will die after movement. So its important to keep an eye on the pot or container when moving from on spot to another.
How to take care to survive the succulents
Pour soil mixture, which contains sand, soil, and small rocks. Check the soil mixture.
Reddy made mixture you should check
A single bug spreads the whole. Then, succulent becomes damage.
Bugs-free soil mixture is essential to growing properly.
Can I transplant succulents in the winter?
Transplanting succulents in winter is not ideal as they are in their dormant phase during this time. It is best to wait until spring or summer when the plant is actively growing and can quickly adapt to the changed soil and pot.
However, if the succulent is in urgent need of repotting due to root rot or other issues, you can move ahead and transplant it. However, take extra care to avoid damaging the roots. Also, make sure to provide proper care, including adequate sunlight and warmth, to help the plant recover quickly.
Movements After Transplanting Succulents
I am always telling you about the necessary movements to plant, replant, repot, and grow succulent healthily.
Teraa cotta clay pots and a quality dirt grows succulent immediately.
A rich pot mixture needs to grow healthy leaves, stems, roots, and protection from bugs.
How to take care while transplanting a bunch of succulent
First, you have to choose the plant and dig the soil. In an open area, first, select the place in the garden. Then move the plant to a pot temporarily. Later, carry the plant gently to reach the planting spot.
To recover, succulent needs soil mix with pesticides. Light sprinkling with soap water to kill germs is necessary. This will helps to recover quickly.
Repotting succulent plants in a new or bigger pot hard, then planting. Caring is a must while moving, repotting, transplanting, and planting. The soil mixture change must grow well, and following the above transplanting process can grow more succulents.
Following are some of the most commonly asked questions. Whenever you have a question, I always try to answer it. If I missed anything, you can ask below in the comment section.
When is the best time to transplant succulents?
The best time to transplant succulents is during their active growing season in the spring or summer. This allows the plant to quickly establish its roots in the new soil.
How often should I transplant my succulents?
Succulents generally only need to be transplanted when they have outgrown their current pot or if the soil has become depleted or contaminated. This can range from every few years to several years.
What soil should I use for transplanting succulents?
Succulents require well-draining soil with good aeration. A mixture of sand, perlite, and peat moss or coco coir can work well. Avoid using heavy, clay soils that retain moisture.
Can I transplant a succulent into a pot without drainage holes?
It is not recommended to transplant a succulent into a pot without drainage holes, as this can lead to overwatering and root rot. If you really want to use a pot without drainage holes, you can add a layer of gravel at the bottom to improve drainage.
How do I safely remove a succulent from its current pot?
To safely remove a succulent from its current pot, gently loosen the soil around the edges with a fork or trowel. Turn the pot upside down and tap the bottom to release the root ball. If the plant is stuck, gently squeeze the sides of the pot or use a knife to loosen the root ball.
Should I water my succulent before or after transplanting?
It is best to water your succulent a few days before transplanting to help loosen the soil and reduce stress on the plant. Wait at least a week after transplanting to water again to allow the roots to settle in.
Can I transplant multiple succulents into one larger pot?
Yes, you can transplant multiple succulents into one larger pot as long as the pot is large enough to accommodate their root systems and has adequate drainage. Make sure to space the plants evenly and use well-draining soil.
Can I transplant my succulent into a terrarium?
It is not recommended to transplant succulents into a closed terrarium, as they require good air circulation and can easily become overwatered in a humid environment. Instead, opt for an open-air container or a shallow dish garden.
How long should I wait to water my transplanted succulent?
Wait at least a week after transplanting to water your succulent again. This allows the roots to settle in and reduces the risk of overwatering.
What are the signs that my transplanted succulent is not doing well?
Signs that your transplanted succulent is not doing well include wilting, yellowing leaves, soft or mushy stems, and stunted growth. These can indicate overwatering, underwatering, root rot, or transplant shock.